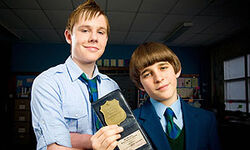 Half Moon Investigations is a recent CBBC show which as of September 2009, has only run for one series. Classed as a children's crime/comedy drama television series created by the BBC and based upon the novel of the same name by the author Eoin Colfer.
Fletcher Moon (often referred to as Half Moon because of his height) is a schoolboy attending St. Jeromes school, Moon sees things that his school friends don't. Since graduating as a fully qualified private detective from the Bernstein online Detective Academy, he has solved all sorts of minor mysteries at school and at home, from lunch boxes stripped of everything but fruit to counterfeit homework networks; corruption and lunch money extortion to theft of school property and even blackmail in the playground.
Detecting is everything to Half Moon. He wants the truth and he is willing to battle for the kids who can't fight for themselves, which isn't always easy when there are enemies around every corner in the jungle that is the playground.
Characters
Edit
Main Article: Full list of characters
Red Sharkey is fletcher's unlikely ally whilst investigating the weeks case. Whilst Fletcher knows plays by the rules, Red knows how to bend them!
Mia Stone is the sassy, straight-talking journalist of the school paper who likes to tag along on investigations, hoping to get a scoop for the school's gossip-packed newspaper.